A Family Affair Shorts: Destiny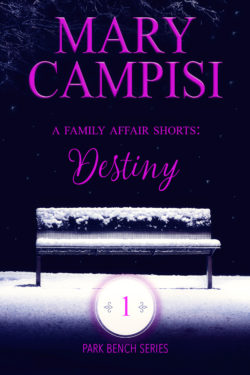 Book 1: Park Bench Series
The story before the story…
What happened before A Family Affair began? Bestselling author Mary Campisi answers this question in her new Park Bench series. These short stories make the perfect park-bench read, and are named after her signature park bench covers.
Book One is aptly titled, A Family Affair Shorts: Destiny. Such a powerful word with so many meanings. Readers have long pondered the first meeting between Charles Blacksworth and Miriam Desantro, a meeting that would change the course of their lives and everyone associated with them. It was such a simple exchange in the grocery store, but what happened next, and the conversations that ensued? You won't want to miss them!
Note: These stories are intended for those who've read A Family Affair, Book One in the Truth in Lies series, and provide an in-depth look into the lives of the characters readers love to love—even a few they love to hate. Don't miss these compelling collections!
Park Bench series:
Book One: A Family Affair Shorts: Destiny
Book Two: A Family Affair Shorts: Regret
Book Three: A Family Affair Shorts: Love
Book Four: A Family Affair Shorts: Heartbreak
Book Five: A Family Affair Shorts: Peace