The Betrayed Trilogy Boxed Set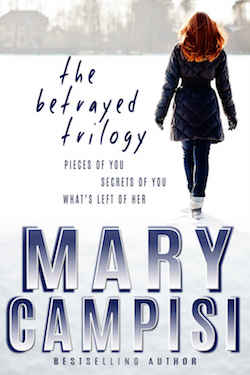 Books 1-3
Heartache. Betrayal. Forgiveness. Redemption. These are the hallmarks of bestselling author, Mary Campisi's novels, and she does it again with The Betrayed Trilogy. If you love romance and women's fiction, family dynamics, hope, and second chances, this trilogy has it all.
Betrayal happens in many forms, but is there anything more damaging or painful than the betrayal of a family member? A hurt like that leaves scars, so many of them, and the healing and hope to get a second chance and right a wrong is possible, but it won't be easy.
Pieces of You
Sometimes hiding in the shadows is the only way to protect your heart.
Quinn Burnes's mother disappeared when he was only fifteen leaving him with a despondent father, a little sister who suffers panic attacks, and eight notebooks containing the truth about his mother. He guards this secret for eighteen years, until on an otherwise normal day, his mother re-enters his life, pleading for his help. She's in danger and the only thing that can save her is reclaiming the identity she shunned years ago.
Quinn is a master of emotional detachment, from his successful career as a personal injury attorney to his strings of meaningless relationships with beautiful women who possess uneasy temperaments; a sure formula to keep his heart safe and insure he's the first to walk away. Until he meets the mysterious 'Danielle' a woman with too many secrets who's on the run from the abusive, estranged husband she shot and may have killed. Danielle isn't like any woman he's ever met, but can he risk his heart for someone who's doing exactly what his mother did eighteen years ago? Someone who may ultimately leave him, just like his mother?
Secrets of You
He's not who he says he is…but neither is she…
Wealthy, privileged, the product of too much money and too little responsibility, Ash Lancaster routinely pretends he's someone else so he'll be valued for more than his bank accounts.
Talented, beautiful, tormented by a past choice she deeply regrets, jewelry designer Arianna Sorensen guards her heart and her privacy from the outside world.
When Arianna and Ash meet, the passion is real, though the rest may not be. She thinks he's a motorcycle-riding photojournalist with nothing but a camera and two saddlebags to his name. He thinks she's a blue-blooded, orphaned sophisticate with a fat trust fund.
However, lies have a way of catching up and causing their own damage. Fate forces Ash to perform the first selfless act of his life to protect Arianna from being blackmailed about her past. The price? He must walk away and forget about her. Two years later, the threat is gone and Ash returns, determined to win back the woman he's never forgotten and even more determined to get her to admit what she's been hiding. He reveals his true identity and pledges a future built on trust and honesty. But Ash expects the truth from her, too. Can Arianna open up to him when the last thirteen years have been built on a lie? And if she doesn't, will she risk losing him again–this time for good?
What's Left of Her
How could a mother walk away from her family?
This is the question many readers asked after finishing Pieces of You, Book One of The Betrayed Trilogy. They wanted to know the real story behind the disappearance of Evie Burnes. What's Left of Her offers an intimate glimpse into Evie Burnes's life before her disappearance–and after.
Note: While Pieces of You and Secrets of You are romances, What's Left of Her is not.