Excerpt - The Redemption of Madeline Munrove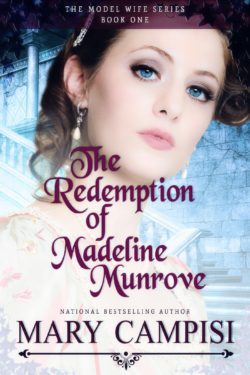 Book 1: The Model Wife
The man had to go. Immediately. Harold Schilling's nephew possessed none of the attributes which had endeared Harold to the Munrove household for seventeen years. Simon Schilling was rude, arrogant, and unmanageable. It was the last that threw her into such a foul mood.
The man had the audacity to crowd her person and press his lips upon her. It's called a kiss, you ninny, say it. And then admit the rest—you kissed him back. He had no sense of propriety. Your behavior was less than ladylike. Even if they had been of equal station, and they most certainly were not, no honorable man would take advantage of an unmarried female as the beast had. Who took advantage of whom? Have you not always wondered what a man's lips would feel like? 
Madeline stuffed her feet into slippers and grabbed a hair ribbon. Oh, drat her conscience. Perhaps she had wondered a time or two, and perhaps she had taken this opportunity to experience what had been the source of those ridiculous poems and sonnets for ages. The Kiss. The Touch.
She'd tried it, for experimental purposes only and as a point of reference. How could she counsel poor Sarah when she had no idea what a simple kiss was? The counseling must end at a kiss, for Madeline had no desire to experience The Touch. Her stomach jumped and the fluttering started, as it did whenever she thought of Simon Schilling and his massive body parts.