The Latest from Mary
A Family Affair: The Cabin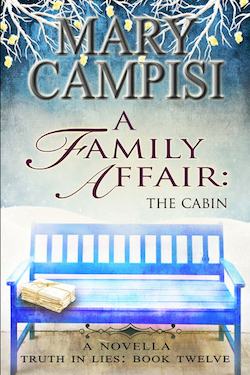 Book 12
He's lost his fortune… She's nursing a broken heart…When fate steps in, will love prevail?
Pete Finnegan had it all—money, power, status, a future wife, until he lost it all in one huge financial "gamble." Now he's back in his hometown of Magdalena, trying to figure out what to do with his life. When Nate Desantro offers him a job fixing up a cabin one hundred miles away, he jumps at the opportunity. Peace and solitude in the woods away from busybodies and do-gooders, is exactly what he needs to contemplate his future.
But Pete doesn't expect to find a beautiful woman staying at the cabin.
Elissa Cerdi has escaped to the Blacksworth cabin to heal her broken heart. As Gloria Blacksworth's former caregiver, she's agreed to honor the dead woman's last request by mailing letters to select residents of Magdalena. When Elissa meets Pete, she doesn't know he has ties to Magdalena, and she certainly doesn't know the final letter she plans to mail is about his father.
Pete and Elissa are both in need of healing and maybe that's why they agree to shut down the outside world and pretend nothing exists but what's inside the cabin…but sooner or later, the truth is going to come out…
Read More & Buy Today