An Unlikely Husband Boxed Set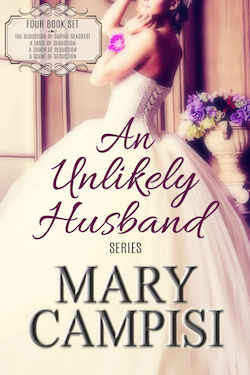 Books 1-4
Romance and women's fiction author, Mary Campisi, brings readers Love and Betrayal, Regency Style in the boxed set of the complete An Unlikely Husband series.
This regency historical romance includes Books 1-4:
The Seduction of Sophie Seacrest
Book One, Sophie & Holt's Story
When Holt Langford, the new Earl of Westover, returns to England after twelve years at sea, he resembles more pirate than nobleman, a far cry from the scrawny youth shipped off by his father to become a man. No one recognizes him and he'll use this anonymity to enter a game of subterfuge in order to expose the scoundrel who has vowed to destroy Holt's family business.
Unfortunately, that scoundrel has a devoted daughter—Sophie Seacrest. Sophie can't deny her attraction to the unorthodox stranger who stirs her blood and makes her think things no proper lady should. Holt and Sophie are drawn into a seductive tangle and just when he's about to reveal his true identity and his honorable intentions, she discovers the truth and must choose between love and family duty.
A Taste of Seduction
Book Two, Francie & Alexander's Story
Francie Jordan and Alexander Bishop have nothing in common—she runs barefoot and talks to animals. He won't loosen his cravat unless the bedroom door is firmly closed. She believes in love, second chances, and happily ever after. He believes in keeping a safe distance from anything that resembles an emotion. Indeed, they have nothing in common but an undeniable desire for one another they can't ignore, and an ailing "father" who will employ any means to bring them together.
Unfortunately, not everyone wishes to see a union between Francie and Alexander, and they will stop at nothing to keep this couple apart.
A Touch of Seduction
Book Three, Ariana & Jason's Story
Jason Langford fell in love with Ariana Kendrick the first time he saw her. It didn't matter that she was but a vicar's daughter and he was the second son of an earl. Nothing mattered but their love and the future they planned as husband and wife.
But those dreams were torn apart one fall afternoon—swiftly, painfully, tragically.
Nine years later, Jason and Ariana will meet again. It will take great effort to untangle the truth from the lies, but Jason is determined to learn what really happened to the woman he loved, the one he could never forget…and never stopped loving…
A Scent of Seduction
Book Four, Julia & Jon's Story
English noblewoman, Julia Langford wants nothing more than to escape the constraints of a society that demands she turn in her breeches and secure a husband. She cares nothing about men or love until she encounters daring sea captain, Jon Remmington, a man who steals her heart and her innocence with searing kisses and bold touches.
Jon Remmington sails the sea avoiding anything that resembles commitment—until he meets the golden-haired temptress with a will to match his own. One night of passion binds them together but a debt of honor forces Jon to abandon his bride. When he discovers Julia is caught in a dangerous game of intrigue, Jon devises a secret plan to return to her side where he will risk his life to protect her and earn the chance to rekindle the greatest love either has ever known.