Small Town Perfect Boxed Set 2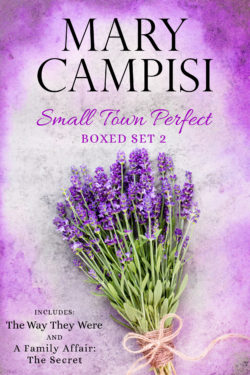 The Way They Were and A Family Affair: The Secret
Small town romantic women's fiction with love, hope, second chances, and a happy ending!
Note from Mary:
I love secondary characters: writing them, reading about them, even watching them on the big screen. Secondary characters support the "stars"; make them more vibrant and compelling. But when the story ends, I'm often left wondering what they'd do if they were in the "spotlight". That's why I've created special boxed sets that were part of That Second Chance series and the Truth in Lies series. These boxed sets let the reader follow the before and after of select characters as they first appear in That Second Chance series and later in the fictional town of my bestselling Truth in Lies series. Boxed Set Two contains The Way They Were and A Family Affair: The Secret. I invite you to follow their journey!
The Way They Were
They promised to love one another forever, but tragedy tore them apart. Now, destiny may just bring them back together.
At eighteen, Rourke Flannigan and Kate Redmond thought they'd spend the rest of their lives together—until a family tragedy tore them apart. Fourteen years have passed, and they've both carved out separate lives hundreds of miles apart—hers as a wife and mother, his as a successful, driven businessman. But once a year, Kate pulls out a red velvet journal and writes a letter, which she'll never send, to the man who still owns her heart. Once a year, on the anniversary of the first and only night they made love, Rourke permits himself to read the annual investigative report detailing an ordinary day in Kate's life.
When a subcontractor at one of Rourke's holding companies is killed, Rourke decides to pay the widow a visit and offer condolences, never dreaming the widow will be Kate. As they embark on a cautious journey of rediscovery, one far greater than they could have imagined, secrets and lies threaten to destroy their newfound closeness—forever.
A Family Affair: The Secret
They weren't looking for happily-ever-after, but the town of Magdalena had other plans…
Roman Ventori isn't looking for a wife. He's had one of those and it ended badly. He's come back to Magdalena out of duty, not love for the town that drove him away with rumors and judgments.
Angie Sorrento is in Magdalena to do a job, not find a husband. She almost had one of those, until he dumped her days before the wedding.
Roman's father has health problems and his last wish is to see his son settled with a wife, a child, a second chance at a life that doesn't include city life and flashy women. There's only one person in town who can make the impossible happen. Angelo "Pop" Benito, the Godfather of Magdalena, is the wiliest matchmaker in the Catskills and if he sets his mind to it, an old man might see his wish come true.
Small Town Perfect Series:
Boxed Set 1 includes Pulling Home and A Family Affair: The Promise
Boxed Set 2includes The Way They Were and A Family Affair: The Secret
Boxed Set 3includes Simple Riches and A Family Affair: Winter
Boxed Set 4includes Paradise Found and A Family Affair: The Wish
Boxed Set 5 includes Not Your Everyday Housewife and A Family Affair: The Gift
Boxed Set 6 includes The Butterfly Garden and A Family Affair: The Return